Industrial Wireless Solution
We offer a wide range of industrial wireless solution, ranging from IEEE 802.11abg wireless AP/Bridge/Client, cellular and router to industrial radio modem.
The industrial grade AWK product line includes wireless Access Point and routers that support the IEEE 802.11 standard. The industrial grade OnCell product line includes Cellular Router, Cellular IP Gateway, Cellular IP modem and Cellular modem that support GSM/GPRS/EDGE/HSDPA/UMTS tecnology.
If you're looking for longest-range, highest-interference immunity and robust performance for industrial systems using license-free bands, Data-linc's flagship frequency hopping technology might be the answer. Available in either serial (RS-232/RS-422/485) or Ethernet interfaces, the SRMs provide robust wireless transmission for SCADA, wireless I/O and PLC/HMI applications. Point-to-point and point-to-multipoint architectures are supported and repeater mode may be used to extend distance or work around obstructions.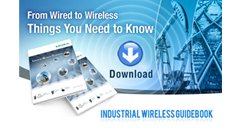 ---
Products include:
Industrial Wireless LAN
Industrial Cellular
Wireless Radio MODEM
Wireless Radio I/O MODEM

Built around the 802.11 technology, a range of products features a WiFi access point, an Ethernet to WiFi bridge and a serial device server over Ethernet WiFi which also works as a serial MODBUS to MODBUS/TCP data gateway. It comes with different environment compliance to support Industrial application in general, also to use in outdoor, for explosive area and on-road, railway, marine transportation.
Designed to manage large SCADA networks, LincView OLE radio diagnostic software enables the monitoring and control of large RF networks in both short-range and longrange applications in harsh industrial environments. It provides detailed information about every modem in the network and time stamps the last communication received.